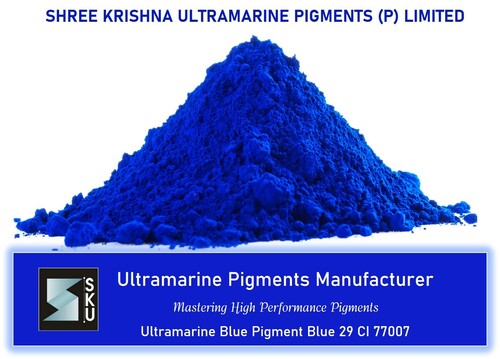 Ultramarine Blue Pigments
Price And Quantity
Kilograms/Kilograms

80.00 - 180.00 INR
Product Specifications
77007

500-620 Gram per litre (g/L)
Al6Na8O24S3Si6

Al6Na8O24S3Si6
Product Description
Loose Ultramarine Blue
Technical grade Ultramarine Blue is being produced for white washing as well as to bring the optical brightness. The applications of this are myriad in commercial as well as domestic use. Keeping the plenty application in mind, we also take special care of its packaging. We package it in order to make it portable for individual as well as industrial use. Our product is of excellent quality and also deemed to bring the satisfaction after usage. We package it in such a way that customers can find it handy in transportation without the apprehensions of any damage.

This product can be blended according to the end user application.
Characteristics

Ultramarine Blue - Industrial Grade (Plastic/Paint/Ink/Rubber Application)

Colour Index No 77007
Chemical family: Sodium Alumino Sulphosilicate
Colour Index Name: Pigment Blue 29
Chemical Formula: Na8-10Al6Si6O24S2-4
Strength: Equal, Against Standard
Water Soluble Matter: 1.80%
Specific Gravity: 2.35
Moisture Content: 0.8%
pH Aqueous Solution: 6-8
Acid Fastness: Poor
Alkali Fastness: Good
Light Fastness: Excellent
Oil Absorption: 32 gm /100 gm
Heat Stability: 280 deg. C
Melting point: Greater than 1000oC
General Introduction
In addition to our broad range of products, we also offer a wide array of Industrial Ultramarine Blue. By inculcating the latest methodologies and techniques, we formulate the range using the finest quality chemicals and colors. Due to their longer shelf life, high purity level, accurate composition and safe usage, this product is highly in demand all across the globe. This range undergoes several tests at our quality-testing unit to ensure their adherence with the set industry norms.

Chemically it is Sodium Alumino Sulphosilicate and represent a blue pigment comprising primarily of double silicate of aluminum & sodium with some sulphides/ sulfates, Ultramarine pigment occurs in nature as a proximate component of lapis lazuli. Today, it is widely accepted in the global markets as the "blue whitener".

Effectiveness is due to the reflectance characteristics of this pigment. As Ultramarine has redder undertone, it reflects at both blue as well as red extremes of spectrum, thus absorbing only unwanted yellow component. With most other blues having greener undertone, hence in addition to absorbing yellow components they also absorb red component, therefore cannot provide a balanced correction as delivered by Ultramarine pigments.

Coloration of Ultramarine Blue
Coloration of Ultramarine pigment occurs due to its chemical composition which consist of alumino silicate with three sulphur atoms in a form of sulfide or sulfate in which unpaired S3- anion originates the blue color. Natural ultramarine blue (lapis lazuli) always show better vivid blue color than synthetic ultramarine due to even particle size which diffuses light more orderly. Synthetic ultramarine color is generally affected by light, oil, or lime and features heat and alkali resistance.

Today, right from the its roots in laundry industry, Ultramarine has also gained prominence in meeting the colouring requirements of plastics, paint, cosmetics, artists colours as well as in numerous other industries like ink,leather & paper coating etc. Some of the benefits which Ultramarine provides in laundry applications include:

Worldwide approval as its safe for use while it comes in contact with skin
Provides optimum whitening effect
Does not stain permanently
Good synergy with optical brighteners
Non-toxic nature
Our Strength in the field of Industrial Grade Ultramarine Blue
A widely used synthetic additive, Ultramarine blue has always occupied a high place in the world of colors and has been a highly valued product through many centuries as well as by many cultures followed internationally. Some of our strengths in the field of Ultramarine products include:

We provide best services to our clients to whom we supply our pigments utilizing network of highly trained representatives, thus ensuring excellent product quality is made available to our quality conscious customers
Ultramarine blue we offer find usage in diverse industries right from construction to plastics and cosmetics
Ultramarine blue offered by us help in creating rich blue vibrancy
Ultramarine blue offered by us are far more economical to use as well as is readily available
These color pigments find application in a wide range of applications (which are mentioned below )
Ultramarine Blue offered by us is manufactured under complete control on their physical, chemical as well as color characteristics
Blue ultramarine pigments we offer find acceptance by manufacturers of printing inks, plastic, cosmetic as well as many other industries
The offered range of blue ultramarine pigments feature good heat resistance capacity up to 350 degree C, thus making them non-bleeding in nature as well as providing in them superior light fastness
Offered blue ultramarine pigments also don't cause any distortion in polyolefins
These pigments find application in power coatings, stowing finishes, industrial & decorative gloss paints as well as other areas
Usage and Applications

Some of the common usages, applications and characteristics of Ultramarine include

Application Range
Used for Coloring
Paint Industry
Water, Oil and Acrylic paints
Water based emulsion paints
Architectural coatings
Floor paints
Sealants
Domestic Applications
Toothpaste
Eyeliner
Pencil & Crayon
Detergents
Lipstick
Food Packaging & Containers
Children's paint
Mineral water bottles
Toilet soaps
Inks & Coatings
Leather & Paper coatings
Coloring Papers
Printing inks
Textile printing inks
Plastics
Blue Ultramarine can be used in any polymer ; violet and pink ultramarine blue has the maximum processing temperature of 250oC and 200oC. With PVC, acid-resistant grades must be used if color fades during processing. Ultramarine do not cause shrinkage or warping in polyolefins. Ultramarine pigments are permitted worldwide for coloring food-contact plastics.

Paints
Ultramarine pigments are used in decorative paints,stowing finishes, transparent lacquers, industrial paints, and powder coatings. They are not recommended for colored, air-drying paints for outdoor use in urban atmosphere.

Printing Inks
Ultramarine pigments can be used in most printing processes including hot-foil stamping. Letterpress, flexography, and gravure need high strength grades ; any grade is suitable for screen ink, fabric printing, and hot-foil stamping.

Paper and Paper coating
Ultramarine pigments are used to enhance hue of white paper or for colored paper. They can be added directly to paper pulp, or used in applied coatings. When added to the pulp, acid resistant grades must be used if acid-sizing is employed. They are particularly suitable for colored paper for children use.

Detergents
Ultramarine pigments are widely used to enhance the effects of optical brightening agents in improving whiteness of laundered fabrics. They do not stain or build up with repeated use.

Cosmetics and soaps
These pigments are widely used in soaps. Advantages are complete safety, non-staining and conformance to all major regulations.

Artists' colors
This traditional use of ultramarine in all type of media is still an important application. Unique color properties, st-abilities, and safety are highly prized.

Toys and other additives/materials for children's use
These pigments are widely used in plastics and surface coatings for toys, children's paints and finger paints, modeling compositions, colored paper, crayons, etc. they comply with major regulations and standards.
Trade Information
Delhi

Telegraphic Transfer (T/T), Letter of Credit at Sight (Sight L/C), Letter of Credit (L/C), Cash in Advance (CID), Cash Advance (CA), Cash Against Delivery (CAD)
150-200 Per Month

15 Days
Yes

Free samples are available
50g 100g 200g 400g 1Kg 5Kg 10Kg 25Kg 50 Kg 500Kg Jumbo

All India